Senior Moves at QuenchTec
November 21 2017
In the UK, MR technology company QuenchTec has promoted Simon Vaarning to Chief Technology Officer, replacing Bjørn Grønli who is taking on the newly created role of Head of Solutions.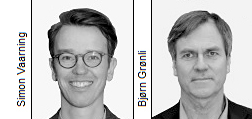 Formed last year from the merger of research software firms MARSC and MI Pro, QuenchTec helps clients manage the entire research process, and cuts the length of studies through automation. The company is headquartered in London, with additional offices in Surrey, Oslo and Malmö.
Vaarning became the firm's Solution Architect after the merger, following nearly eight years in the same role at MI Pro, and nearly three years as a Senior Developer at Global Market Insite (GMI). In his new post, he will lead the tech teams in Scandinavia and the UK from QuenchTec's Malmö office. Grønli, who is the co-founder of MI Pro, will now develop automated research solutions and lead the firm's product development strategy.
CEO Mark van Walwyk comments: 'I am delighted to strengthen our executive team with Simon who has been crucial in building our research platform over the years. Bjorn's unique combination of deep market research and tech domain knowledge will help us in executing on our vision to create automated research solutions for our clients'.
Web site: www.quenchtec.com .
http://www.mrweb.com/drno/news25369.htm